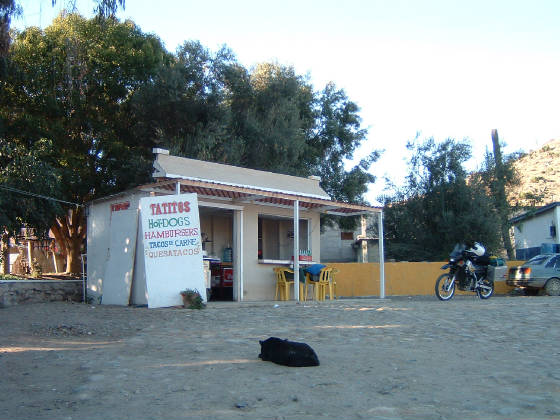 A great little road-side Taco stand typical all over Mexico, serving delicious Mexican cuisine as well as the very popular Hamburgers and Hot Dogs (Peritos Calientes).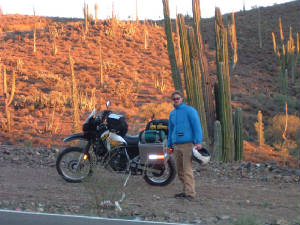 I took this picture later that same day as the shadows were getting longer by the minute.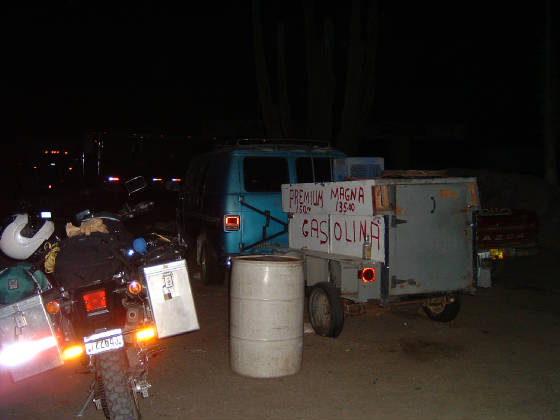 When I arrived in this tiny settlement I had about 80 miles left in the 6 gallon tank. One man told me that the closest gas was 75 miles north, back the same direction I had just come from, or 100 miles south. Fortunately this "gas station" was still open.
Their gasolina - though of questionable quality - was understandably well worth the inflated prices. The classic economic theory of supply and demand as seen in the Baja desert.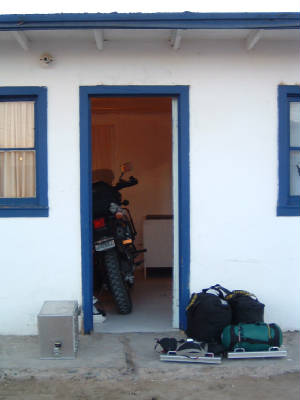 Most places I've found will allow me to bring the moto inside: either into the room or the hotel lobby. Traditionally a large whaling community, Guerrero Negro received its name (Black Warrior) from an overladen whaling ship that sank here in 1858.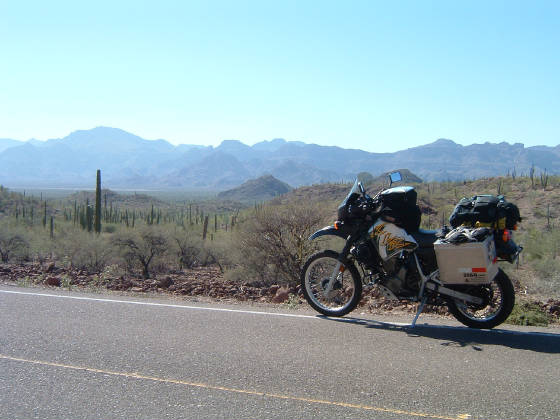 Northern Baja doesn't have much to offer in the way of buenas vistas. Baja Sur is a whole different world. The scenery south of Santa Rosalía along the Gulfo de California is beautiful. Ranging from coastal inlets and islands to high deserts and fertile mountains.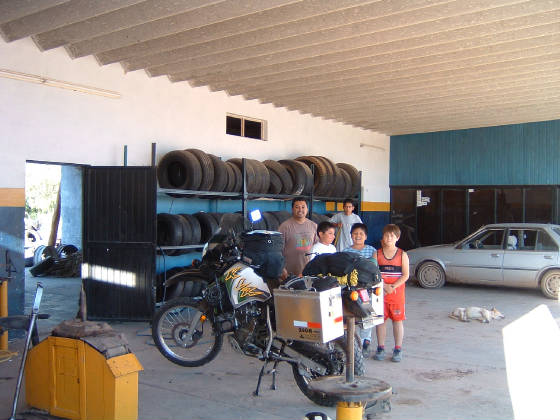 I stopped in Ejido Insurgentes on the way to La Paz to get a snack of chicharrones. After chatting with some local chicas, and telling them that I had to get back on the road, one of them informed me that I probably wouldn't get it very far with a flat front tire. Even though I had all the tools to fix a flat, I also had the option of pushing my bike over to Carlito's llanteria. Twenty minutes and $2 later I was back on the road. Carlito told me that two years earlier a Japanese man riding (the opposite direction) from Argentina to the United States had also stopped in his place with a flat tire. We were both casualities of the barren Baja.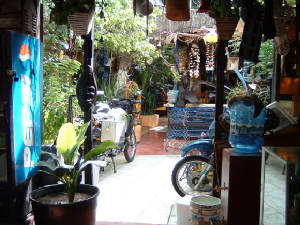 Due partly to the flat tire, I pulled up to the Zocalo of La Paz after dark. While I was examining my guide book for a cheap place for the night, Steve walked up and asked what I was looking for. After a little discusion I discovered that he was also on a KLR650 headed for Tierra del Fuego. It looks like I rode into La Paz at just the right time. Steve showed me to the Hotel Yeneka where he was staying just half a block away. We have plans to meet up further down the road.